The STOP-AT project addresses an information and awareness component on the dangers of human trafficking, as well as a training component in order to improve access to effective justice and quality services for victims of human trafficking..
The 2018 EU report shows that 74% of the victims of European citizens identified in the European Union are from Romania. Due to the non-fulfillment of the minimum requirements for preventing and combating human trafficking, in the 2019 US State Department Country Report, Romania was demoted and included on the Level 2 Monitoring List until 2021, risking further demotion to Level 3, along with of the least developed states in the world.
STOP-AT implements national awareness campaigns. In this respect, 10 communication tools developed in the project will be used for information in the online environment and in public spaces, as well as other visual information materials developed by public or private actors in order to successfully complete the campaigns previously launched at national level.
The project will conclude over 50 partnerships with schools, local authorities, media, private partners, local NGOs, etc. and the online platform "OnSilent!" will be promoted. Through this platform data on possible exploitation situations (traffic networks and victims) will be collected.
The Training for Anti-Trafficking Academy (TAT Academy) will be established, which develops training materials for magistrates, police, gendarmes, priests, staff in the social assistance and child protection system, journalists, teachers, bringing together NGOs and public institutions. to achieve the common goal of limiting trafficking in human beings, especially minors.
The STOP-AT project will assist local and central public institutions, and implicitly Romania and the EU, in collecting and reporting alternative data on the number of identified victims and their protection / access to effective justice.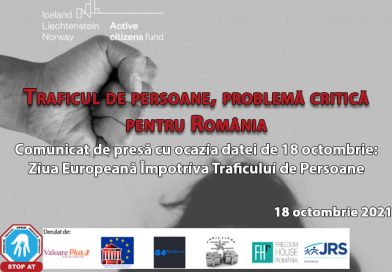 Press release: Trafficking in human beings, a critical issue for Romania. Conference with international participation in the European anti-trafficking week.